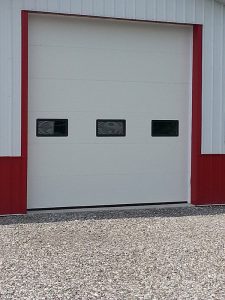 Do you want to reduce the strain that you put on your garage door every time you open and close it? Do it by installing light-weight sectional doors that are designed to increase the life of your garage door opener by leaps and bounds. Bi-Rite Overhead Doors can install the plastic panels or sections that make up light-weight sectional doors for you and allow you to enjoy all the advantages that come along with them for yourself in your commercial property.
The light-weight sectional doors available though Bi-Rite Overhead Doors are a lot lighter than other rolling doors. This is because they consist of plastic panels or sections that don't weigh as much as metal panels or sections would. It'll allow your garage door opener to open and close your door without much effort at all. In addition to reducing the load on your garage door opener, light-weight sectional doors themselves will also last for a long time thanks to their heavy-duty construction. They're dust-proof and dent-proof and will prove to be plenty durable.
At Bi-Rite Overhead Doors, we've been selling and installing light-weight sectional doors with plastic panels or sections for over 19 years. We also have experience with repairing and servicing these types of garage doors and can keep them looking and working the way they should. Bi-Rite Overhead Doors will also honor manufacturers' warranties for you to keep the cost of repairing and servicing light-weight sectional doors to a minimum. It makes them a great option for any business.
Contact Bi-Rite Overhead Doors at 419-339-3909 today to see if light-weight sectional doors would be right for you. We can sell, install, and repair them in Celina, Elida, and Findlay, OH and many of the surrounding cities.